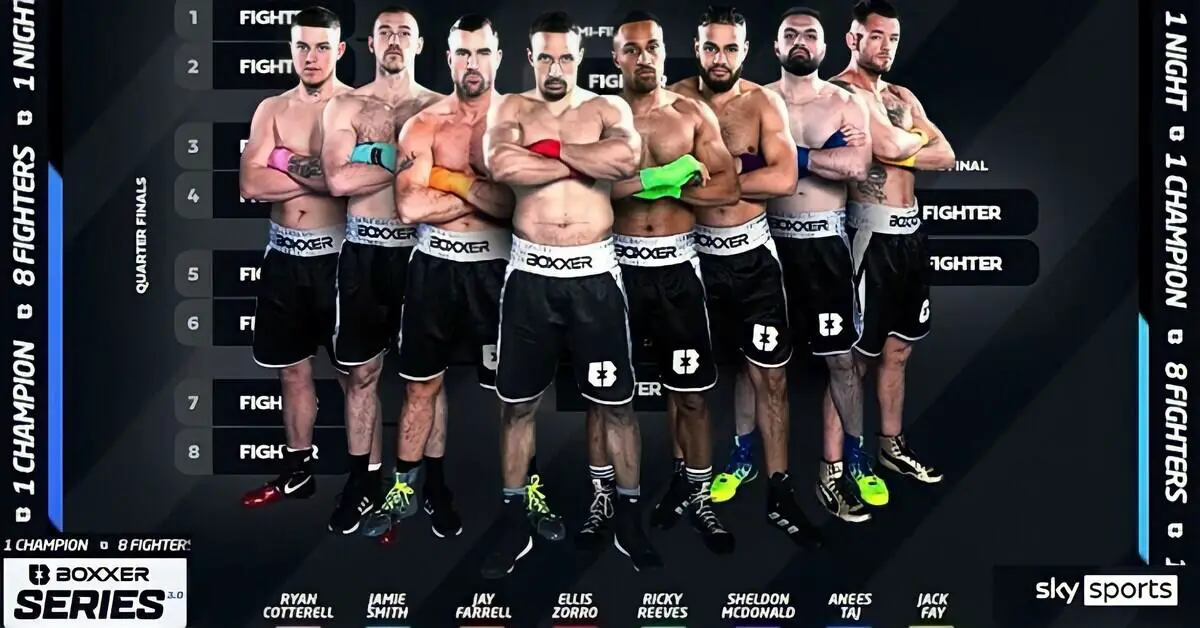 The Boxxer series returns to the Victoria Warehouse in Manchester on Saturday, May 14 Live on Sky Sports Boxing. This tournament pits the fringe contenders in the Cruiserweight division for the second time in its four-year history for a grand prize of £50,000.
In July 2019, it was Boxxer contender Mikeal Lawal, who won in dominant fashion and has now started to propel through the ranks domestically under the same Boxxer/Sky banner. 3×3 minute rounds are fast-paced, exciting, and leave no room for mistakes as Damian Chambers found out with a left hook counter against Lawal.
Boxxer has staged two Boxxer Series tournaments since it moved to Sky. In November in Liverpool, Cori Gibbs was victorious against strong domestic entities in the super lightweight division. Last time out, Rylan Charlton and Dylan Cheema went on a collision course with both performing excellently in the early rounds and ended up having a three-round war in the final and Dylan Cheema the heavy outsider to begin with, pulled off the huge upset and changed his career forever.
Top 4 Contestants
The most experienced boxer is Bromley's 29-year-old Ellis Zorro (11-0). The Steve Goodwin managed fighter has a faultless record so far in four and six round contests and has 6 knockouts in his 11 wins. His power and experience could do him very well in the tournament, but he has not stepped up so far.
Last time out, Liverpool's James Farrell (9-2) fought for the central area Cruiserweight title coming up short to Damian chambers (11-2) in a very exciting slugfest. The Liverpudlian has been inactive as of recent with his last fight two years ago. The nature of this tournament does not allow for ring rust and the lack of sharpness could be very costly.
25-year-old Watford fighter Anees Taj (5-1) had a promising start picking up four knockouts in five fights and getting a big win over Stevie Taylor (7-0). Taj lost his unbeaten record to fellow undefeated fighter Adrian Valentin (2-0) and so has joined this tournament with not as much to lose, aiming to land a major promotional contract at the end of it.
Buckinghamshire-based Jamie Smith (3-0) is the favourite of the Boxxer Series. He has the perfect style for this tournament as his strong jab and inside work will lead to good volume when necessary and smart boxing on the outside. He has had his first 3 on small-hall shows with 2 KO's to his name.
The 4 Outsiders
Walsall's 22-year-old Ryan Cotterell (1-0) got a first-round KO over the limited Dave Preston on debut. Cotterell has not even boxed one full round as a professional and was not a top amateur so there is very little to go off here.
GBM Sport represented, Sheffield's Sheldon McDonald (3-0) is a Johnny Nelson charge and has been heavily backed by many notable fighters in the industry. A strong boxer with big local support, McDonald has been a lifelong athlete and previously was a semi-pro footballer.
Also from Sheffield, Ricky Reeves (2-0) at 31-year-old must leave it all on the line on Saturday night. This is likely his only opportunity of earning a top promotional contract or being in major fights down the line and he must capitalise on the Boxxer Series.
The biggest outsider of the tournament is Blackburn Cruiserweight Jack Fry (1-0-1) who drew his second fight and looked quite flat while doing so. That could have been a bad night at the office for the 26-year-old but his lack of experience and bad performance comfortably makes him a massive underdog.
Boxxer Series: EverythingBoxing Pick
Our pick to win the Boxxer Series tournament is Ellis Zorro, who is the most experienced fighter, and biggest puncher and we have yet to see him lose or too many flaws in his game from the footage available. Anees Taj and James Farrell should not be underestimated either as they are used to taking 50-50 fights but I think the punch resistance of Farrell may let him down.
By Darshan Desai and Freddie Firman
Also Read: EverythingBoxing Updates: Hughie Fury Next Fight, NEW Wasserman Boxing Show, Marshall vs Shields, Joyce vs Parker, And MORE